Originally, a diocese, it was established in the mid-19th century. It was not until 1937 that Newark became an Archdiocese. Presently, the Archdiocese covers four counties in New Jersey-Bergen, Essex, Hudson, and Union.
Archbishop Theodore McCarrick
Since September 2018, no discussion of Catholic priest abuse in the Archdiocese of Newark can avoid the discussion of one of its former archbishops, Theodore McCarrick. When the Archdiocese published a list of priests who had been accused of sexual abuse in February 2019, the news remained overshadowed by McCarrick's downfall. In all, the Archdiocese listed 63 priests, 33 of whom had multiple victims.
It is not difficult to understand why the McCarrick story continued to dominate the news even into 2019. McCarrick had been ordained a priest of the Archdiocese of New York before he became the bishop of Metuchen, and then Archbishop of Newark (1986-2000). His meteoric rise through the church's ranks was underscored by his affable personality, communication skills, and political acumen. However, McCarrick had a deeper, sinister side that would not be revealed publicly until the fall of 2018. Ironically, McCarrick became the country's bishops' spokesperson on matters of sexual abuse as well as the President of the United States confidante in foreign relations and diplomacy.
The Dark Side of "Uncle Ted"
For decades, there had been whispers about "Uncle Ted" and his permissive and predatory behavior toward young men, particularly seminarians. Archbishops and bishops had heard the rumors. Even Pope Benedict XVI had heard them, leading him to sideline him and forbidding him from exercising a public ministry. Regrettably, Benedict did this in secrecy.
A news report by the Catholic News Agency, based on interviews with six unnamed priests of the Archdiocese of Newark, described Cardinal McCarrick's actions while Archbishop of Newark. According to this report, when McCarrick would visit the seminary in the Newark diocese, he "would often place his hand on seminarians while talking with them, or on their thighs while seated near them." One of the priests stated that McCarrick "had a type: tall, slim, intelligent – but no smokers." He stated that McCarrick would invite young men to stay at his house on the shore, or to spend the night in the cathedral rectory in central Newark.[49] In response to the story, the Archdiocese of Newark stated that neither the six anonymous priests interviewed for the story, nor anyone else, "has ever spoken to (current Newark Archbishop) Cardinal Tobin about a 'gay sub-culture' in the Archdiocese of Newark."
There were even secret financial settlements with McCarrick survivors in 2005 and 2007.
Recent Cases Against the Archdiocese of Newark
Michael "Mitch" Walters
In a recent case that has gone to court, the Archdiocese of Newark has raised contributory negligence on the part of the survivors who were sexually abused by priest Michael "Mitch" Walters. This defense implies that those who were abused as children were somehow guilty or contributed in some way to their own abuse.
Walters was accused of molesting children at the St. Cassian Church and school in Montclair and at the St. John Nepomucene Parish in Guttenberg between 1982 and 1995. Danielle Polemeni, one of the alleged victims who settled a case against the priest, said Walters groped her on multiple occasions when she was 13 and 14 years old and attending St. Cassian's Church and the parish's school in Upper Montclair.
During an eighth-grade class trip to the Poconos, Walters groped her breast and buttocks as he carried her around a swimming pool for several minutes, Polemeni alleged.
"I also thought that that was just how men behaved," Polemeni, now a teacher in Ohio, told NJ Advance Media in 2016. "That, sometimes they were creepy, and gross, and you just had to wait for them to go away."
Fr. John Capparelli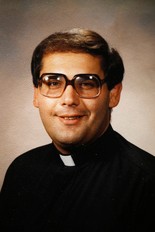 One of the more notorious Newark priests on the list is Fr. John Capparelli. According to media reports from Henderson, Nevada, 70-year-old John Capparelli, who served as a priest in Our Lady of Fatima Church in North Bergen, was found fatally shot on March 12. His death is being investigated as a homicide.
Capparelli served in several other New Jersey parishes as well during a 12-year span, which also included a stint as a hospital chaplain and Catholic prep school teacher, according to the Archdiocese.
It was widely reported that the Clark County Coroner's office found the cause of death to be a single gunshot wound to the neck. Caparelli lived in Nevada for a few years prior to his death. After first being ordained in 1980, he was removed from the ministry in New Jersey after accusations surfaced that he allegedly abused multiple teenage boys in the 1970s and '80s.
A flood of allegations from over 30 people claiming that Capparelli victimized them opened up, placing Capparelli at the center of multiple lawsuits. Like many other "credibly accused" priests on the archdiocese's list, Capparelli was protected by New Jersey's statute of limitations in every single case, and he was never convicted of a single charge.
Rich Fitter's suit against Capparelli made dozens of headlines in 2011. Fitter alleged that Capparelli would sexually abuse teenage boys while running a wrestling club as part of an after-school program for Oratory Prep School in Summit.
Shortly after leaving the priesthood, it was widely reported that Capparelli became a public school teacher in Newark. Then, a series of Star-Ledger stories about his past as a priest were published. Those stories, which included interviews with his alleged victims, preceded action by the state to remove Capparelli's teaching certification.
Capparelli was first removed from the ministry amid allegations in 1992. He didn't surrender his state teaching license until 2013, despite widespread, consistent reports of the allegations that trailed him for decades.
David A. Ernst
David A. Ernst was a priest of the Newark NJ archdiocese, ordained in 1954. He served in parishes in East Orange, Ridgefield Park, Rutherford, Union City and Wyckoff. He died in 1988. There have been multiple accusations of child sexual abuse against Ernst; at least one claim against Ernst was included in an October 2004 one million dollar settlement between the archdiocese and individuals who claimed abuse by 9 priests. Accusations against Ernst were still surfacing in 2010.
Fr. Kevin Gugliotta
Another Newark priest, Fr. Kevin Gugliotta was ordained a priest in spite of the fact that the Archdiocese knew of allegations that he had abused a Boy Scout a few years earlier. Archdiocese of Newark leaders still assigned the priest to a Union County parish, where he became "head of youth ministry" and began abusing another young boy a year later. In 2003, church officials briefly removed Gugliotta from ministry and sent his case to the Vatican for review. But church leaders later said they could not remove Gugliotta from ministry because the alleged sexual abuse took place in the 1980s when he was a Boy Scout leader — years before he became a priest, the lawsuit said.
The case was reported to police, but never prosecuted.
A spokesman for the Archdiocese of Newark told NJ Advance Media last week the Vatican ruled that church law, known as canon law, prevented Gugliotta from being punished for something he might have done as a layman. In December 2004, he was quietly reinstated, free of restrictions on his ministry, and served for years in various parishes, including a long stint as chaplain to a youth group.
Ordained in 1996, Gugliotta has worked at St. Rose of Lima parish in Short Hills, St. Elizabeth of Hungary Church in Wyckoff, St. Joseph's Church in West Orange, St. Bartholomew in Scotch Plains and Immaculate Conception Church in Mahwah, where he served as pastor for little more than a year before requesting a transfer in the summer of 2016.
New Legislature Brings Hope
The New Jersey Legislature has passed a bill that will allow survivors of New Jersey priest abuse to bring lawsuits against the Archdiocese of Newark and the other dioceses in New Jersey. The bill should become law in December 2019. Meanwhile, all New Jersey Catholic dioceses have commenced a compensation plan for survivors.
If you or a loved one were abused by a Catholic priest in New Jersey, call abuse advocate Attorney Joe Saunders immediately for a free consultation.